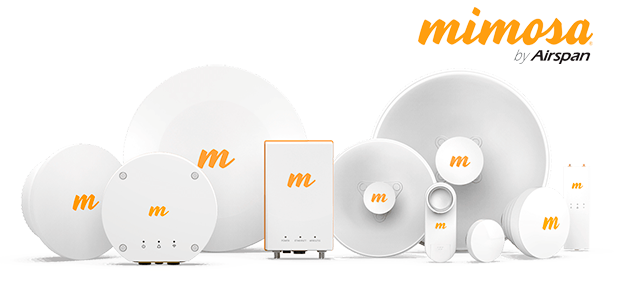 About Mimosa
Mimosa Networks, a division of Airspan, is the global technology leader in wireless broadband solutions, enabling service providers to connect dense, urban, and hard-to-reach rural homes at a fraction of the cost of fiber. Mimosa access, backhaul, and client solutions are deployed in a hybrid-fiber-wireless architecture, and engineered for both point-to-point and point-to-multipoint connections, across a variety of diverse applications including residential and business high-speed internet access, surveillance, public safety, education, and hospitality networking. Mimosa's technology delivers unprecedented levels of cost-effective spectral efficiency, allowing scarce spectrum to be concurrently and reliably shared across networks. Mimosa Networks was acquired in 2018 by Airspan, the leading vendor of 4G/5G wireless densification solutions. For more information, please, visit mimosa.co.
Point-to-Point Backhaul Solutions
HIGH-RELIABILITY POINT-TO-POINT
The B24, B11, B5x, and B5 and B5c deliver aggregate speeds of up to 1.5 Gbps, with less than 1 ms of latency. Mimosa's unique GPS Sync technology allows collocation and channel reuse. These products are built for reliability, with IP67 ratings and Dual-Link wireless redundancy.
HIGH-VALUE POINT-TO-POINT
Offering industry-leading price performance, the C5x and C5c deliver high speeds, and support an extended frequency range of up to 6.4 GHz with less than 1 ms of latency.
Point-to-Multipoint Access Solutions
With end-to-end solutions for short and long-range wireless deployments, Mimosa's access points, antennas and clients provide superior speeds to meet today's networking demands.
Accessories
Custom-designed accessories enable rapid and cost-effective deployments. From industry-leading antennas, mounts and ESD protection, Mimosa makes installations easy.