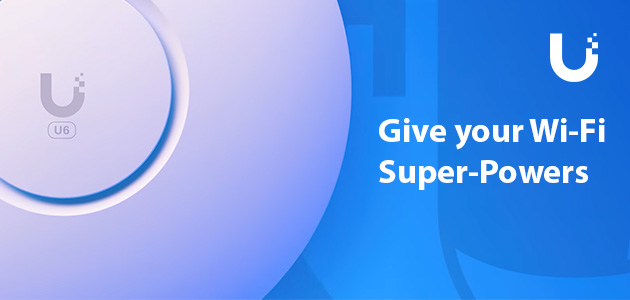 About UBIQUITI
Ubiquiti Inc. currently focuses on 3 main technologies: high-capacity distributed Internet access, unified information technology, and next-gen consumer electronics for home and personal use. Ubiquiti is focused on democratizing network technology on a global scale — aggregate shipments of nearly 85 million devices play a key role in creating networking infrastructure in over 200 countries and territories around the world. Their professional networking products are powered by UNMS and UniFi software platforms to provide high-capacity distributed Internet access and unified information technology management, respectively. For more information, please, visit www.ui.com,blog.ui.com.
UniFi
UniFi is end-to-end networking ecosystem for businesses and smart homes of all sizes.

UniFi is a state-of-the-art solution allowing you to effortlessly manage 100 APs in the same way you manage an individual AP. They offer enterprise quality hardware performance in a variety of elegantly designed form factors for a wide range of applications in any professional environment.




UniFi OS is a powerful and intuitive operating system enabling an end-to-end management experience for all of your IT needs. When paired with our specially designed hardware you will have unparalleled control over your network and WiFi, security cameras, VoIP phones, door access, smart enterprise lighting, digital signage, and much much more!

Pair with a UniFi Gateway Console for a full-featured UniFi Network including enhanced network security and traffic analytics, built-in VPN access, and powerfully intuitive Policy-Based Routing (PBR).

Further information:
UniFi WiFi
UniFi Switсhing
UniFi Consoles
UniFi Cameras & Security
UISP
UISP is solution for internet service providers, including UNMS, airMAX, EdgeMAX, airFiber, UFiber, etc.

UISP Design Center automatically suggests compatible devices based on what you priortize, whether that's optimal performance, cost efficiency, or both. Simply plot your intended deployment locations on the map and the platform will generate a list of materials you will need to set up your hardware and establish your links as quickly as possible.

Further information:
Wireless
Wired
Fiber
60 GHz Wireless
Accessories
AmpliFi
AmpliFi is more than a common home router: it's the ultimate Wi-Fi system. With turbocharged 802.11ac Wi-Fi, AmpliFi utilizes multiple self-configuring radios and advanced antenna technology to bring ubiquitous Wi-Fi coverage to any home.

Further information:
AmplifiHD
Alien
Instant
Gamer's Edition
Please use this form to contact us.
ASBIS managers will get back to you as soon as possible.